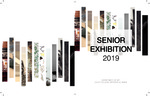 Description
This catalog was published on the occasion of the Art Department's 2019 Senior Exhibition, May 9 - May 2 at the Colby College Museum of Art, Waterville, Maine.
Seniors participating in the 2018-19 Studio Art Capstone, coordinated by Professor Garry Mitchell, spent the year reflecting on their art in conversation with their peers and guest critics. During the spring of 2019 each of them created a final body of work and an artist statement that places words in dialogue with their material practices. Members of Professor Daniel Harkett's Writing Art Criticism course engaged the studio students in a further series of conversations about their work and developed rich responses to it in their catalog essays.
AR 401-402 / STUDIO CAPSTONE STUDENTS
Jake Abbe-Schneider / Painting
Carlos Beason / Sculpture
Keenan Boscoe / Photography
Meg Forelli / Painting
Max Guerra / Photography
Heidi Minghao He / Painting
Wiley Holton / Painting
Alice Yutong Hua / Painting
Wendy Li / Photography
Ekaterina Nikiforova / Printmaking
Shanzhao Qiao / Photography
Andrea Velazquez / Painting
AR 356 /WRITING ART CRITICISM STUDENTS
Bennett Allen
Keenan Boscoe
Katie Herzig
Tim Hood
Jane MacKerron
Sarah Rossien
Hannah Springhorn
Caroline Webb
Publication Date
Spring 2019
Publisher
Colby College Art Department
City
Waterville, Maine, USA
Keywords
student art exhibitions, undergraduate art, college art, student art writing
Rights
All images and text are ©2019 by the authors and artists of the original works as credited. Images and writing may not be reproduced in any form without the prior written consent of the author/artist involved.
Recommended Citation
Colby College, "2019 Senior Exhibition Catalog" (2019). Senior Exhibition. 3.
https://digitalcommons.colby.edu/senior_exhibition/3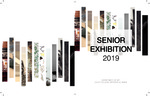 Included in
COinS