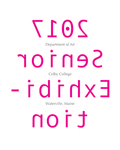 Description
This catalog was published on the occasion of the Art Department's 2017 Senior Exhibition, May 4-22 at the Colby College Museum of Art, Waterville, Maine.
This catalog is the first publication to accompany the Senior Exhibition at Colby College; it represents a unique collaboration among students and faculty, studio artists and art historians. Featured on its pages are selected artworks and artist statements produced by the studio art majors and minors in their senior capstone seminar, co-taught by the studio faculty and coordinated this year by Professor Gary Green. Readers will find these images and texts paired with catalog essays developed in a new art history seminar on writing art criticism taught by Professor Daniel Harkett.
AR 401-402 / STUDIO CAPSTONE STUDENTS
Ernie Aguilar-Arizmendi / Photography
Danielle Bagley / Painting
Silas Eastman / Sculpture
Sarah Grady / Photography
Jackson Hall / Photography
Emily Held / Printmaking
Patt Lamom / Painting
Esther Mathieu / Photography
Teddy Simpson / Photography
Anne Vetter / Photography
AR356 / WRITING ART CRITICISM STUDENTS
Leah Bilodeau
Wilder Davies
John Egner
Sara Heilbronner
Madeleine Joern
Publication Date
Spring 2017
Publisher
Colby College Art Department
City
Waterville, Maine, USA
Keywords
student art exhibitions, undergraduate art, college art, student art writing
Rights
All images and text are ©2017 by the authors and artists of the original works as credited. Images and writing may not be reproduced in any form without the prior written consent of the author/artist involved.
Recommended Citation
Colby College, "2017 Senior Exhibition Catalog" (2017). Senior Exhibition. 1.
https://digitalcommons.colby.edu/senior_exhibition/1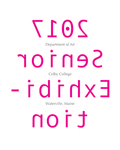 Included in
COinS