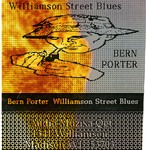 Title
Williamson Street Blues
Files
Download Cassette Packaging Views (2.1 MB)
Description
Recorded May 19, 1988 in Madison WI on the occasion of Bern's first Wisconsin visit. Recording & live dubbing: Miekal And. Rock version of The Last Acts of St Fuck You engineered by Steve Gassen, Noise & Smoke Studio, Chicago IL.

Side One
1. "The Last Acts of St Fuck You"
2. Hamar Blessing
3. Readings from the Chinese: "From the Most Distant Time" "Written of the Wall at Chang's Hermitage" "Banquet at the Shu Family Manor"
4. "Now & Now"
5. "QEII"
6. "My Life as an Indian"
7. "I Saw"
8. improvisation
9. rendering from the Chinese: "The River Merchant's Wife: A Letter"
10. Rock version of "The Last Acts of St Fuck You"
Side Two
1. "Numbers & Numbers Play"
2. performance of Madison, WI phonebook
3. reading from "Telephone Book Poems" by Liz Was
[The sounds on side two include: "I Passed This" by Malok; "The Werewolf Suite" by Michael Helsem; Telegu singing by Charles Glass; "Unbell Radio" by Qwa Digs Never Parish; music of Xenakis; "Trudgerosery" by Liz Was; "Praydio" by Miekal And]
Audio Muzixa Qet Madison, WI
Digitized from audio cassette.
Identifier
Porter-WilliamsonSt
Location
Madison, Wisconsin, USA
Keywords
contemporary poetry, experimental poetry, spoken word
Disciplines
American Studies | Art Practice | Creative Writing | Poetry
Recommended Citation
Porter, Bern, "Williamson Street Blues" (1988). Miscellany. 10.
https://digitalcommons.colby.edu/porter_misc/10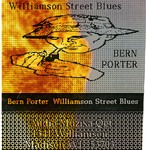 COinS