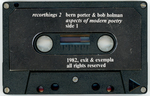 Title
Recorthings 2: Bern Porter & Bob Holman; Aspects of Modern Poetry
Description
Recorded broadcast from radio station WBAI (New York, NY).
Porter talks with Holman about contemporary / experimental poetry including "SCI ART," Founds, artistic "ownership"/plagiarism and the nature of language itself. Holman serves as interviewer, interlocutor, and devil's advocate. He (Holman) frequently enters performance mode, overlaying (under-laying?) sounds, vocalizations and wordplay onto Porter's monologues.
Digital recording of two-sided audio cassette. Running time: approximately 47 minutes.
Identifier
Porter-Recorthings2
Keywords
contemporary poetry, experimental poetry, artists' conversations
Disciplines
American Studies | Art Practice | Creative Writing | Poetry
Recommended Citation
Porter, Bern and Holman, Bob, "Recorthings 2: Bern Porter & Bob Holman; Aspects of Modern Poetry" (1982). Miscellany. 1.
https://digitalcommons.colby.edu/porter_misc/1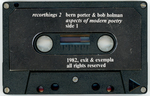 COinS