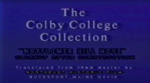 Title
Colby College: Mayflower Hill Move: Cleanup After Construction (undated, circa 1942 - 1952)
Description
Color, no sound. Running time: 2 minutes, 51 seconds.
Students perform outdoor tasks at Colby College's Mayflower Hill Campus, break for lunch, plant a tree, and engage in outdoor recreation. College president Franklin Winslow Johnson is shown.
From "The Colby College Collection," a set of 12 VHS video tapes. Originally issued as short films ca. 1936-1965. Transferred from 16mm film to VHS by Northeast Historic Film, Maine, 1993-1994. Digitized by Colby College Libraries, 2019.
Colby Call No.: Video 1816 v.8
File ID: VHS_Video_1816v8b
Colby College Library catalog record: cbbcat.net/record=b1258801~S3
Location
Waterville, Maine
Recommended Citation
Colby College, "Colby College: Mayflower Hill Move: Cleanup After Construction (undated, circa 1942 - 1952)" (1942). Colby Video. 7.
https://digitalcommons.colby.edu/colbiana_video/7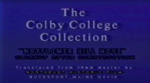 COinS