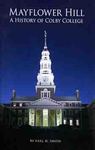 Files
Download Mayflower Hill: Contents Through Chapter 2 (6.4 MB)
Download Mayflower Hill: Illustrations Part 1 (2.6 MB)
Download Mayflower Hill: Chapter 2 Through Chapter 4 (5.5 MB)
Download Mayflower Hill: Illustrations Part 2 (2.6 MB)
Download Mayflower Hill: Chapter 4 Through Chapter 6 (5.3 MB)
Download Mayflower Hill: Illustrations Part 3 (2.2 MB)
Download Mayflower Hill: Chapter 6 Through Index (8.5 MB)
Description
A lively history of Colby College from its founding in 1813 to the present day.
Founded by Baptists in Waterville, Maine (and originally named The Maine Literary and Theological Institution), Colby College began as a tiny place- half college, half seminary. It faced doom at the end of the Civil War but was rescued by Gardner Colby, a wealthy manufacturer whose $50,000 donation saved the college. Three years later, it changed its name to honor its benefactor. Sixty years after that, the tiny college had become choked by the city's success. Squeezed between the Kennebec River and the railroad tracks, it faced the daunting challenge of building a larger campus. This book tells the story of that audacious move, made in the darkest days of the Great Depression and funded by Waterville's residents, who raised $100,000 for a new campus on the heights above the city- on Mayflower Hill.
The years after the move were marked by vibrant growth and daring change, leading to an institutional prominence unimagined by the founders. Using anecdotes and biographical asides to humanize this history, Earl H. Smith describes Colby's shift from a religious focus to secularism, from "coordination" to coeducation, and from provincialism to global notice. Smith tracks the growth of an ever-stronger faculty who were willing to make innovative changes in the curriculum and of trustees who dared to revolutionize student life by shedding outdated traditions. He brings to life the voices of students during the 1960s and 1970s, eager to change the old rules, protest an unpopular war, and demand equality and social justice on campus and worldwide. And perhaps most important of all, Smith illuminates how Colby College slowly reversed its role from the protected to a protector of the city that saved it.
Far more than a mere institutional history, Mayflower Hill resonates with the independent spirit of its founders and of subsequent generations of presidents, trustees, faculty, and students who took inspiration and courage from the story of the old college and carried the new Colby to its place among the finest small colleges in the land.
Rights
Publisher
University Press of New England
City
Lebanon, New Hampshire
Disciplines
Higher Education | History
Recommended Citation
Smith, Earl H., "Mayflower Hill: A History of Colby College" (2006). Colby Books. 7.
https://digitalcommons.colby.edu/colbiana_books/7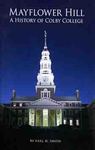 Included in
COinS