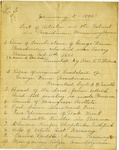 Rights
Courtesy of Special Collections & Archives, Colby College Libraries, Waterville, Maine. Copyright has been assigned to the Colby College Archives. All requests for permission to publish or quote from manuscripts must be submitted in writing to Colby College Special Collections & Archives.
Description
List of articles held by the Boardman Missionary Society, January 5, 1895. List includes physical objects held for a potential museum or library for the student organization.
Subject
Campus life; Student engagement -- Student clubs and organization; College students -- Religious life; Christian college students.
Relation
Colby's Special Collections and Archives holds one (1) physical copy of this text. https://archivesspace.colby.edu/repositories/4/archival_objects/10906. 4 page handwritten document.
Recommended Citation
Boardman Missionary Society (Colby College), "Boardman Missionary Society. List of Articles in the Cabinet in Boardman Missionary Room, 1895." (1895). The Boardman Missionary Society Materials. 13.
https://digitalcommons.colby.edu/boardmanmissionarysociety/13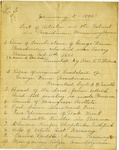 COinS