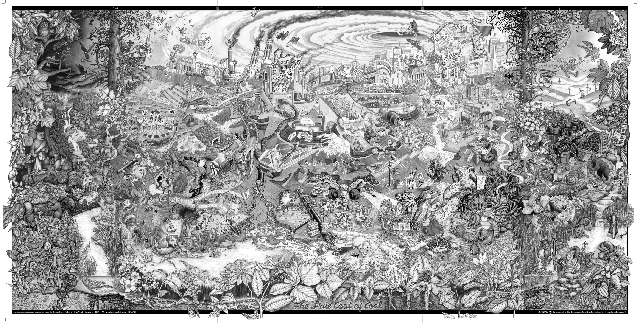 Title
Description
Black and white (B&W) digital image. Imagery of ant colony working in solidarity to de-militarize and destroy a tank-like war machine. Text reads: "Mobilizaciõn against military and economic intervention in Latin America and the Carribean / En contra de la interventicion economica militar en Latin America y el Cariba / Washington DC April 4-11 2011"
This graphic was originally created in collaboration with the networks of the Latin American Solidarity Coalition for their mass mobilization in Washington DC in the spring of 2003. It was re-released for a similar mobilization held April 4-11, 2011.
The Latin America Solidarity Coalition (LASC) is an association of national and local US-based grassroots Latin America and Caribbean solidarity groups, many of which have long histories of working with grassroots organizations throughout Latin America and the Caribbean. LASCs goal is to define common goals and shared strategies for these groups. LASCs work circles around several hemisphere-wide issues as well as country-specific topics.
Subject
Latin American Solidarity Coalition (Organization); Social justice -- Latin America -- Posters; Politics in art; Social justice -- Posters; Narrative art; Storytelling in art; Artistic collaboration; Political posters; Posters; Pictures
Identifier
ROBSN FOLIO N8243.S648 B44_D
Coverage
Two thousands (Decade)
Relation
Colby's Special Collections and Archives holds two (2) physical copies of this poster: https://cbbcat.net/record=b6556090
Recommended Citation
Beehive Design Collective, "Latin America solidarity" (2003). Beehive Design Collective Materials. 4.
https://digitalcommons.colby.edu/beehivedesigncollective/4

COinS