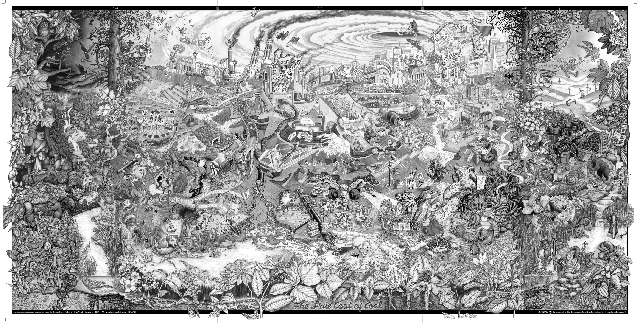 Title
Description
Black and white (B&W) digital image.
"Plan Colombia" is part of the Beehive Design Collective's trilogy of graphics about globalization in the Americas. This is the second in the Beehive's anti-globalization trilogy. This poster focuses on Plan Colombia, an aid initiative that included U.S. funding of military and counter-narcotics efforts in the Andean region. It is an anti-war poster "that exposes the mythologies of our times, interweaving the complex stories of corporate globalization with the grassroots resistance that has risen to combat it."
Complex narrative, metaphorical image reflecting anti-colonialist and pacifist themes of publisher. Per accompanying pamphlet, image is divided in 3 "layers": "the Nightmare of Plan Colombia," "500 years of resistance," and leafcutter ants that "expose the powerful scene of bio- and cultural diversity that lies under the surface of this nightmare."
Plan Colombia is the name of a United States military and diplomatic aid initiative aimed at combating Colombian drug cartels and left-wing insurgent groups in Colombian territory (from Wikipedia: https://en.wikipedia.org/wiki/Plan_Colombia)
In addition to the primary "Plan Colombia" image, this project includes a narrative (English and Spanish versions) meant to accompany the poster. This narrative and its components are available for download within this record.
Subject
Drug control -- Colombia; Globalization -- Latin America -- Pictorial works; Human rights -- Colombia; Counterinsurgency -- Colombia; Anti-imperialist movements -- Latin America; Politics in art; Social justice -- Posters; Narrative art; Storytelling in art; Artistic collaboration; United States -- Foreign relations -- Latin America -- Pictorial works; Colombia; Latin America; United States; Political posters; Posters; Pictorial works; Prints; Illustrated works
Identifier
ROBSN FOLIO N8243.S648 B44
Coverage
Two thousands (Decade)
Relation
Colby's Special Collections & Archives holds one (1) physical copy of this poster: https://cbbcat.net/record=b6555894. The physical collection does not include supplemental materials (narrative, ppt)
Recommended Citation
Beehive Design Collective, "Plan Columbia" (2002). Beehive Design Collective Materials. 15.
https://digitalcommons.colby.edu/beehivedesigncollective/15

COinS