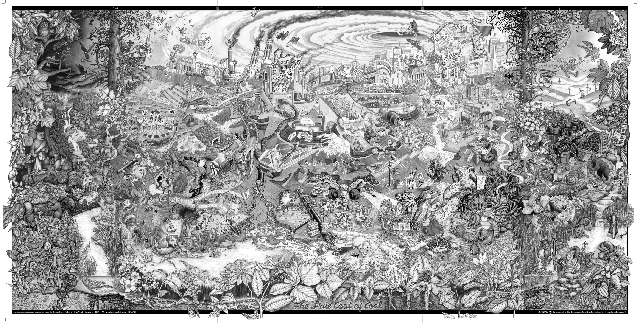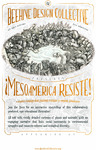 Title
Description
"The third poster in a graphic trilogy about free trade, militarization, and corporate colonialism in the Americas ... a map drawn in old colonial style depicts the modern invasion of megaprojects planned for the region ... and opens to reveal the view from below, where communities are organizing locally and across borders to defend land and traditions, protect cultural and ecological diversity, and build alternative economies." -- Beehive Design Collective website (http://beehivecollective.org/graphics-projects/mesoamerica-resiste/)
Taking 9 years to complete, the double-sided poster documents stories of resistance to the mega-infrastructure development plan Project Mesoamerica (previously known as Plan Puebla Panama)
In addition to the primary "¡Mesoamérica resiste!" poster, this project also included a written narrative (in both English and Spanish) and press kit meant to accompany the poster. The press kit includes the following sections: "About the Beehive," "Mesoaerica Resiste," "Press Releases & One Sheet," "Reviews & Love Letters," and "Frequently Asked Questions." These supplemental materials are included for download within this record.
Subject
Industrial development projects -- Central America -- Resistance; Free trade -- Central America; Politics in art; Social justice -- Posters; Narrative art; Storytelling in art; Artistic collaboration; Central America; Political posters; Pictures
Identifier
ROBSN FOLIO N8243.S648 B44_D
Coverage
Two thousands (Decade)
Relation
Colby's Special Collections & Archives holds two (2) physical copies of this poster: https://cbbcat.net/record=b6555898. The collection physical collection does not include supplemental materials (narrative, press kit) beyond the poster.
Recommended Citation
Beehive Design Collective, "¡Mesoamérica resiste!" (2001). Beehive Design Collective Materials. 14.
https://digitalcommons.colby.edu/beehivedesigncollective/14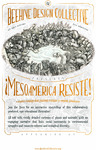 COinS