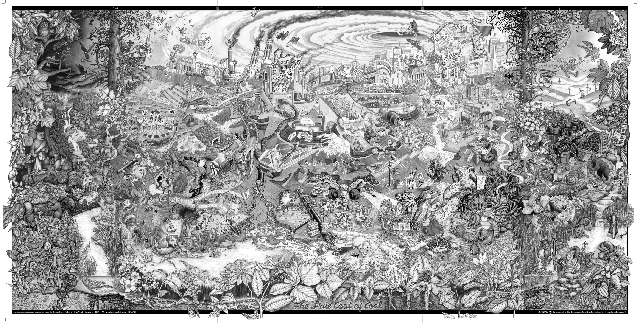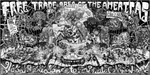 Files
Description
Black and white (B&W) digital image.
"A map of interconnections, showing the impacts of corporate globalization on all life on the planet, and celebrating global resistance to big and bad ideas... The FTAA poster was the Beehive's first large scale narrative graphics campaign, and became the first in a trilogy of graphics about globalization in the Americas" -- Beehive Design Collective website (http://beehivecollective.org/beehive_poster/free-trade-of-the-americas/)
In addition to the primary "Free trade area of the Americas" image, the Beehive Design Collective also created a narrative meant to accompany this poster. This narrative describes the dangers of unchecked capitalism, encourages resistance to "corporate colonialism," and explains the symbolism and meaning of the images content. This narrative was published in English, French, German, and Spanish. These supplemental narratives are included for download within this record. Additional supplemental materials available for download within this record include the clip art used for designing the "narrative" files.
Subject
Free Trade Area of the Americas (Organization); Free trade -- America; Industrial development projects -- America -- Resistance; Politics in art; Social justice -- Posters; Narrative art; Storytelling in art; Artistic collaboration; America; Political posters; Posters; Pictures
Identifier
ROBSN FOLIO N8243.S648 B44_D
Coverage
Two thousands (Decade)
Relation
Colby's Special Collections & Archives holds one (1) physical copy of this poster: https://cbbcat.net/record=b6555899.
Recommended Citation
Beehive Design Collective, "Free trade area of the Americas [and the global resistance to corporate colonialism]" (2001). Beehive Design Collective Materials. 13.
https://digitalcommons.colby.edu/beehivedesigncollective/13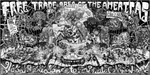 COinS