Colby Quarterly was a journal of analysis of and commentary upon subjects in the humanities with special interest in regional studies of Maine, New England and Canadian history as well as literature.
Volume 39, Issue 4 (2003) December

This is the last issue of the Colby Quarterly, from 1943-1989 the Colby Library Quarterly.
I want to record my gratitude, and that of the College, to our past editors: Carl J. Weber, Richard Carey, and John Sutherland; to our copy editors Regina Knox and the late Peter Westervelt; to Nina DeGraff, production and layout; to Grace Von Tobel, manuscript services and business management.
I also want to thank our accomplished guest editors, particularly Michael Marlais and David Simon for this, our splendid final issue; and our authors and readers over sixty-two years.
Farewell, thanks, and good luck.
Douglas Archibald
Front Matter
Articles
Back Matter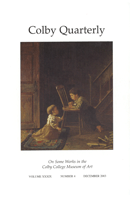 Guest Editors
Michael A. Marlais,
James M. Gillespie Professor of Art
David L. Simon,
Ellerton M. Jette Professor of Art
Special Issue
Works from the Colby College Museum of Art