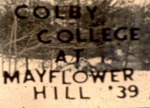 Files
Download
Download or Connect to Resource (508.8 MB)
Description
8mm film footage, color, shot between ca. November 1939 - April 1940.
The opening montage shows a winter scene, but the first length of footage was shot in the Fall. It opens with a very brief glimpse of Colby College's Mayflower Hill campus women's dorms under construction, then pans to the Chapel, which is virtually complete (it was the first building finished on the Mayflower Hill Campus).
The film also shows the Miller library building under construction, encased in scaffolding, its tower only framed in. (A flag visible at the top of the tower indicates that the footage dates just after the topping off ceremony which took place on Friday, November 10, 1939.) It then shows the Men's Union under construction.
There follows a panorama of the view from Mayflower Hill, including wooden fence sections locating the planned buildings.
The film then moves to the old Colby campus in downtown Waterville for a football game vs. Colby rival Bates College on Saturday, November 11, 1939. (Colby won 28 - 20). Some scenes depict cheerleaders.
The next segment of film opens with a shot of the nearly completed Miller library on the Mayflower Hill campus. It then shows Roberts Union completed, and some new construction (possibly the men's dormitories). It also shows some construction equipment in a depression, probably one that was later filled with water to make Johnson Pond (the earth removed from the pond was used for landscaping).
The film again moves to downtown Waterville for a parade down College Avenue, led by cheerleaders and the Colby Band, and later shows them marching onto the football field. There is no actual game footage, but there is footage of the Colby Mule (the mascot). This sequence probably took place at Colby Night on October 25, 1940. The drum majorette leading the band is Thelma Proctor Matheson, Colby class of 1943.
The final segment of film was shot of a major parade in downtown Worcester, Massachusetts, probably on April 27, 1940. This parade marked a reunion of the 104th Infantry, in commemoration of the World War I Battle of Apremont (1918).
Keywords
college campuses, football games, parades, 1930s
Location
Waterville, Maine and Worcester, Massachusetts, United States
Recommended Citation
Kinch, Frederick J. and Kinch, Marion Johnson, "Colby College at Mayflower Hill 1939" (1939). Colby Video. 3.
https://digitalcommons.colby.edu/colbiana_video/3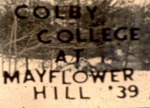 COinS