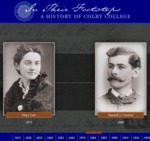 Title
In Their Footsteps: A History of Colby College (Multimedia Website and Documentary Video)
Files
Download Web Archive Files (PDFs, webarchive, page source) (29.5 MB)
Description
Colby College, founded in 1813 and the 12th-oldest liberal arts school in America, explored 200 years of history as it celebrated its bicentennial in the 2012-2013 academic year.
The website at http://colby.edu/colbyhistory/ presents a multimedia, interactive timeline of Colby history as well as selected audio, video, and events of to the bicentennial celebration year.
A companion documentary video, In Their Footsteps: A History of Colby College, can be viewed via YouTube (above).
Keywords
bicentennials, anniversary celebrations, college history, liberal arts schools, american history
Disciplines
American Studies | Higher Education | Liberal Studies | United States History
Rights
Copyright Colby College, 2012. All Rights Reserved.
Location
Waterville, Maine, USA
Recommended Citation
Colby College, "In Their Footsteps: A History of Colby College (Multimedia Website and Documentary Video)" (2012). Colby Video. 2.
https://digitalcommons.colby.edu/colbiana_video/2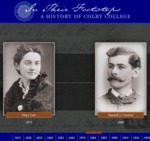 COinS