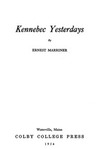 Title
Description
A "social history of the Pine Tree State…especially…the Kennebec Valley" inspired by Marriner's long-running Sunday evening radio program "Little Talks on Common Things," broadcast by Waterville's WTVL beginning in 1948.
From the foreword:
To my amazement I found hundreds of people interested in the social history of the Pine Tree State. Material has always poured in faster than I could use it. Out of trunks and boxes stored away in attics, came letters and diaries, account books and legal documents. Scrap books prepared by patient hands many decades ago were opened for my inspection. Yellowed newspapers, tied in neat bundles by someone long since dead, were brought to my door. Memories of elderly people were loosened for my ears.
Out of it all came the determination to get some of this social history into print —for it is a kind of history too easily forgotten, the "short and simple annals of the poor," the ordinary concerns of ordinary people, which underlie the social structure we now call Maine. It is not systematic history, not the history of the textbooks nor the carefully documented work of the professional historians with which we are here concerned, but just friendly glimpses of life in Central Maine over the years.
Rights
Publisher
Colby College Press
City
Waterville, Maine, USA
Keywords
history, Maine, oral history, anecdotes, folk history, rural life, social history
Disciplines
Social History | United States History
Recommended Citation
Marriner, Ernest Cummings, "Kennebec Yesterdays" (1954). Colby Books. 8.
https://digitalcommons.colby.edu/colbiana_books/8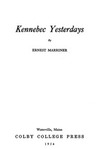 Included in
COinS